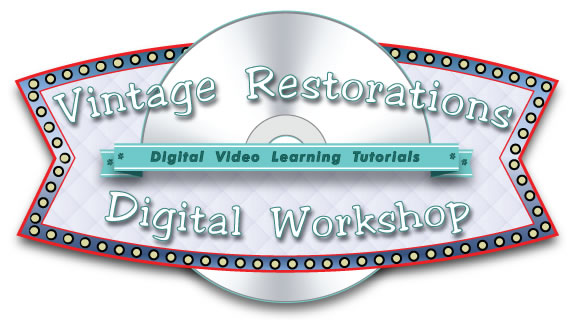 Welcome to Vintage Restorations Digital Workshop!

We have been meticulously restoring antique vintage coin-operated vending machines and other collectibles over the last 29 years with emphasis on antique collectible soda pop machines.
Dedication to ensuring our restorations meet the highest standards our customers have grown to expect encouraged us to share our knowledge in the restoration process by producing our Vintage Restorations Digital Workshop Series. We chose various coin-operated vending machine models for the Digital Workshop Series. Currently, we offer several Digital Workshop DVDs for Soda Pop Machines, Candy and Cigarette Vendors as well as a few oddities. Our DVD library continues to grow and more titles will become available, so check back regularly!
The restoration process can be complex and has many phases. We demonstrate many of these principles; however, some topics, such as paint & body work, are beyond the scope of our tutorials. We hope the Vintage Restorations Digital Workshop Series demonstrates and explains the restoration process and aids in assisting you with your restoration project!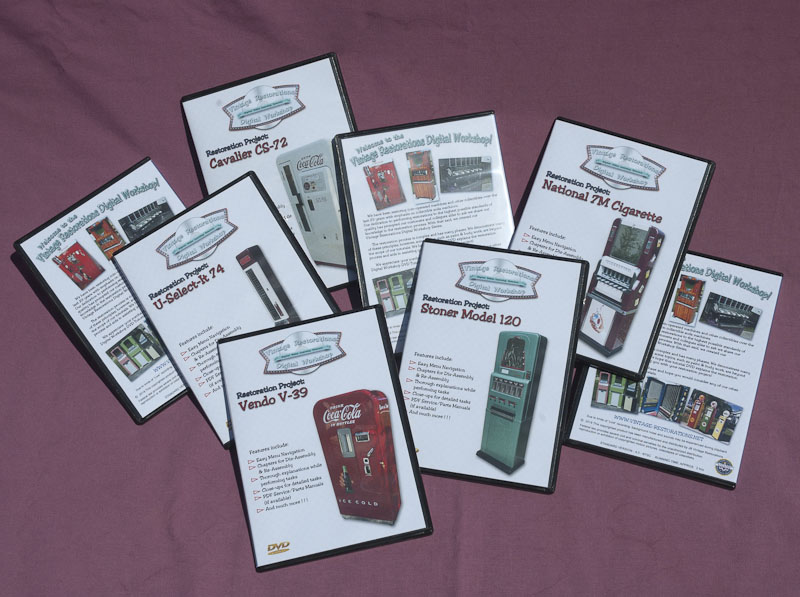 Features include:
Easy Menu Navigation
Chapters for Dis-Assembly & Re-Assembly
Thorough explanations while performing tasks

Close-ups for detailed tasks
PDF Service/Parts Manuals (if available)
Associated Tips & Tricks
And much more ! ! !
We take pride in our Restorations! With our close attention to detail, museum quality restorations are our business! Performing restoration work since 1988 has afforded us the opportunity to grow and learn all aspects of conducting the meticulous restoration work our customers have come to expect and appreciate.
Please take a few minutes to browse our Restorations Section and discover the craftsmanship we deliver with each and every restoration project!
Check our current Vintage Restorations Digital Workshop DVD Library!
Below are Sample Tutorials:
Vendo V-63 Liner Removal


 

U-Select-It Vending Mechanism Removal


Cavalier CS-72 or CS-96 Bottle Door Re-Assembly


Stoner 120 Marquee Installation


Stoner/Univendor Hinge Pin Removal


Assemble Stoner Penny Vendor Pull Knob Assembly - Part 1


Cavalier CS-72 Cabinet Door Removal


Vendo V-63 Refrigeration System Removal


Re-Assemble the Stoner Pre-War Display


More Tutorial Samples Coming Soon...