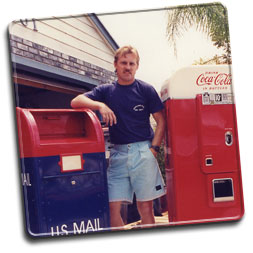 Coming from a family that collected Antique Tools, Furniture and other odds and ends, it was only natural for me to follow in my parent's footsteps. Shortly after marring my wonderful wife, Michele, in 1987, we began decorating our new home with a variety of Antique Advertising Signs and other Memorabilia. We bought our first Antique Classic Vintage Vending Machine, a Vendo V-39, in 1988. It was this very project that led us into the Vintage Restoration Business.
We pride ourselves on preserving Antique Classic Vintage Coin Operated Vending Machines manufactured during the 1920's through the 1960's. At Vintage Restorations, our meticulous attention to detail shows in every restoration we perform!  Our discipline to original techniques, paint types and color choices differentiates us from other restorers as we pride our work to be "as close" to "original" by today's standards!
We invite you to compare all aspects of our Museum Quality Restorations and you will realize, there are vast differences in quality restoring Antique Classic Vintage Coin Operated Vending Machines!